Silver
---
The complete range from storage to processing for potatoes, onions and carrots
As a family-run business, Tolsma-Grisnich is a pioneer and leading specialist in the field of efficient storage and primary processing of potatoes, onions and carrots with more than 75 years of experience. Concept-oriented solutions From the international potato capital Emmeloord, Tolsma-Grisnich provides their customers with smart, innovative and concept oriented solutions, which clearly distinguish the company from the competition. Tolsma-Grisnich's high-quality custom solutions and intensive process support provides customers with complete peace of mind and guarantees the highest possible return.
Turnkey projects Tolsma-Grisnich provides high storage and processing returns for growers, processors and industrial packers of agricultural products. Because every customer and every process is different, Tolsma-Grisnich provides custom solutions and intelligent concepts. The advisers of the company are unrivalled in their ability to understand the market and, together with the customer, they analyze the entire storage and processing chain. In turnkey projects, all the expertise and experience that both companies have built up over the years are concentrated in the innovative control technology of the system.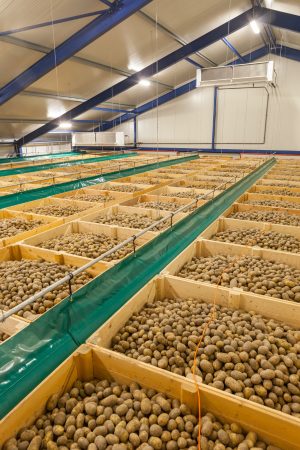 Service and support Tolsma-Grisnich is always very keen sharing the expertise and experience that the company has gained with their customers. This results in reliable storage advice, but also in information about optimal maintenance of the processing system. Throughout the lifetime of the system, all customers over the world can rely on the advice and solutions provided by the specialists from the service and support department.
Research & Development
Ambitious, innovative and intelligent
The next step in precision agriculture involves the storage and processing of agricultural products. Information such as product quality, market information, energy charges and weather forecast is used to provide a high-quality end product. In fact, this is what makes the Tolsma-Grisnich R&D department unique. Intelligent systems Information technology and Industry 4.0 are the keywords. For example: smarter climate computers and environmentally friendly cooling systems with natural refrigerants. And software that not only efficiently aligns all the steps in the chain, but also collects information about costs, maintenance (costs) and important information about the product to be stored and/or processed. The intelligent software enables an efficient management of business processes and products.
For more information, visit our website